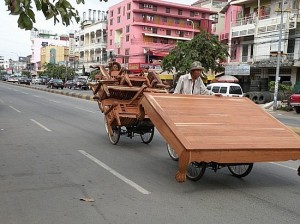 Let's face it, there isn't an easy way to transport your furniture to your new home, especially if you've decided to handle your relocation alone. Nevertheless you shouldn't lose heart if you've taken upon yourself this task, because here you'll discover some great tips that will ease you a lot and, on top of all, will help you prevent any incidents.
First step: Taking apart
Experienced movers highly recommend disassembling your pieces of furniture before moving them. It's as plain as the nose on your face that it'll be much easier to carry, load and transport relatively small objects than large ones. So if you want to cope easily with your furniture removals, you'd better roll up your sleeves and take them apart.
Second step: Packing essentials
Although your furniture is not as fragile as some glassware, you must consider that it still needs some protection. I'm sure that you don't want the upholstery of your favourite sofa to be covered all over with stains or to see the surface of your table damaged or scratched. Proper packing is the best way to prevent such incidents so it's worth laying in a stock of plenty of packing paper and moving blankets.
Third step: Protect yourself
You should never forget that there is nothing more important than your health. Professionals from all good companies that provide home removals in London would advise you to be very careful when you're trying to move heavy items like different pieces of furniture. It's very likely to hurt your back and you shouldn't neglect this danger.
Sometimes it's much easier and safer just to hire a professional moving crew than trying to move your heavy furniture by yourself. Think about that…