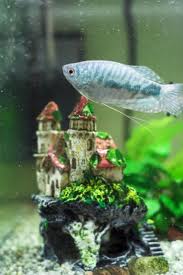 Of all pets fishes are these that need most of your attention. There is nothing easier than moving a dog or a cat to your new home – all you should do is just letting them go into your car. But, unfortunately, you can't do the same with your fishes. You'll need, at least, a day to prepare your fishes for transportation. What should you do if you want to move them safely?

Bear in mind that preparing your fishes for relocation should be done a day before the date that you've chosen for your home removals London.
1. Take all fishes out of their aquarium
Obviously, it's not a good idea to transport fishes in their aquarium because it could be easily damages, especially if it's a large one. That's why you have to put them in a smaller one. And don't forget to pour some of their old water! That will help them adapt easily to the new environment and will reduce stress.
2. Pack properly
Aquariums are fragile items that must be wrapped well if you want to gain their new destination without even a scratch. First of all, you have to wash and dry them carefully. After that you have to cover them with a couple of layers with bubble wrap and one with packing paper. Don't forget to put a label with "FAGILE"!
Even if you need cheap removals London, don't forget to take care properly of your fishes and their home. If you pack the aquarium properly, it'll be moved without any problem.