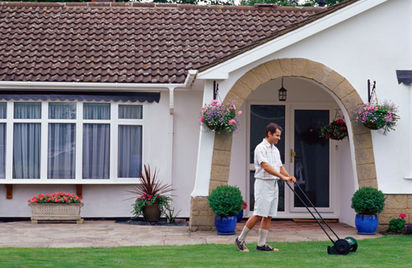 Even if you share a house that has been covered into many flats. It is worth taking into account what the buyer may think before entering your flat. Overflowing dustbins and an abandoned bicycle in the front garden do not send out the right message.
So here are few tips to help you present the exterior of your home to its maximum advantage. This is now known as kerb appeal.
Make sure the approach to the front door is clear of any obstacles. Remove bicycles, prams, toys buggies, rollerblades etc. from the path and porch.
The name or number of the house should be clearly visible. There is nothing more annoying not being able to find the property.
If there is a garden gate it should be clean and freshly painted. Left open to welcome people towards the house. A closed gate seems negative.
Make sure the front garden is near and tidy. Clip the hedges, mow the law, weed flowers beds and trim roses or brambles. Even the tiniest space can look shambolic, so tidy it all up.
Dustbins are a real eyesore. If your house is divided into flats and all your bins are at the front. You can hide them away with a length of fencing or bamboo sheeting attached to timber frame. If it is an improvement, the other residents could hardly object.

The front door should look glossy and fresh

. (quick tip –

blue seems to be the most successful colour for selling houses

) Polish up the brass letterbox and knocker.
If the window frames need repainting I'm afraid you should repaint them. If it is shabby and peeling outside.

The viewer will assume

it is shabby and peeling inside and many not come in.
Remove hoses and tools.
You could add colour to the front with seasonal flowers in some tubs or window-boxes. This can make all the difference and, when you've sold, you can take the whole lot with you!
Sparkling clean windows are a must.
A neat trick is to replace the light bulb in the porch with a higher wattage for those winter evenings.
Remember you must do all these things before viewings commence. You don't want people tripping over paint pots and ladders.
If you play your cards right a drive by might immerse to a viewing. It would be very depressing if the interior is more fabulous than the exterior. The potential buyer may not even wish to view based on what he has seen.