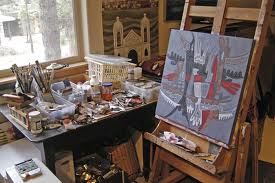 Changing the place of your business especially in cosmopolitan cities like the capital of Britain can be quite tricky – that can either double the customers you had so far if the location is central or around the historic sites or you can lose all of your regular clients because of that change. But sometimes changes are inevitable, so we have to accept them whatever the result is.There are numerous office removals London companies that provide removal assistance all around the city seven days per week. So booking one of those for help even on a Sunday is no longer an issue. If you are an owner of a gallery or art studio you must know a few things in advance to make sure that it all goes well eventually.
1) Look for a fully insured company – When transporting paintings and other works of art it is vital to feel secured. Always ask for a recommendation from a friend or read the company's testimonials on their website to check what the opinions of some previous customers are.
2) Carefully measure the size of the paintings, sculptures, installations and furniture (if any) that need to be removed to the new office. Than give that information to the office removals London assistants that you have chosen – This is absolutely necessary in order to make sure that the packing boxes they will bring with them will be suitable and everything will be loaded safely in the transportation van.
3) Buy a lot of bubble wrap or if you cannot find any yourself just tell your agency to bring you some. A 10 meter roll should cost you not more than 5 pounds extra but it will save the edges of all of your picture frames from damage during the removal.Be smart, always keep your eyes open and book someone experienced. Good luck!