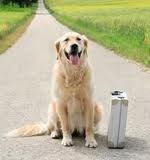 Relocation process is difficult not only for people but also for their fluffy friends – cats and dogs. Most of them don't like changes at all and that's why they may not react as you expect at removals. What can you do to help them cope with relocation stress?
First of all, let's discuss what may happen with your pet during a move. In the beginning your cat or dog may feel a bit confused and lonely because you'll hurry, won't pay attention to him/her and probably you'll chase him/her away while you're packing. The moving day is the most dangerous period for your fluffy friend. He/she will be extremely scared of all these strangers who will come in and out of your home carrying your belongings. There are three things that may happen:
– your pet might be injured;
– your dog or cat may try to attack a member of the moving crew;
– your fluffy friend could try to run away.
Every experienced home removals London company would highly recommend you to bear in mind these possible reactions. But what can you do to prevent any negative consequences?
1. Pay attention to your pet
Don't ignore him/her just because a lot of work. Spend at least half an hour daily with him/her, let him/her stay with you while you're packing and so on.
2. Consider your pet's needs
If you want your pet to feel less stressed, you must try to keep his/her daily routine. Feed him/her regularly, don't forget walks and clean up after him/her.
3. Keep your fluffy friend away
This is the best thing that you could do for your cat or dog. I'm sure that you have friend who wouldn't mind to take care of your pet while you're looking for cheap removals London or during the moving day.
Don't forget your fluffy friends and care for them even during relocation!