Working tirelessly to guide, assure and provide a home relocation can be exhausting work. It is consisted of constant movement and going to places, while very little rest is offered in return. The human body still needs to be satisfied daily, provided food, water, rest and sleep. It is said that people can survive up to 3 weeks without food, but only so much as 3 days without water. Relocation can last even longer.
Dehydration, during, is not expressed by the lack of water sources. Luckily, in most parts of the world where there is civilization, there is also supply of drinkable water. It's the manner of drinking consistency that can play a joke on the mover, if left unchecked. How many times, during the day, do you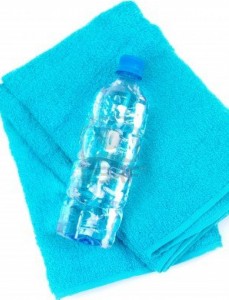 consume water? What kind of water do you drink and where do you get it from? How do you carry it with you throughout the day? All these questions are simple to answer and yet they play a constant and vital role in the proper function of the body.
First rule is to always check where you supply your drinkable water. A bottle filled with water from the sink is not always the best option. Research from where does your locality receive its fresh water supply? When travelling with a plastic bottle, never leave it filled with the same kind of water for more than half a day, especially during summer. Plastic, by itself, is an unwelcome substance to consume. Keep every container you carry cool and away from the summer sun. A simple thing as placing it in a bag would do.
When you carry water with you, follow the consumption rule: drink little and often. Anything more and the body loses precious energy that sometimes it can't afford. What's more unpleasant is that it doesn't matter how much water you drink at a time. If the heat or dry cold gets to you, the satisfaction disappears quickly, leaving you with a stomach of a water balloon. You can watch for yourself the symptoms of dehydration here:
http://www.youtube.com/watch?v=KaVdZ-vUypo
When sharing water supply, always discuss the option of sharing with the rest of the people, if there are any. Some of them might not like the idea of consuming contaminated (used) water and will prefer to get some by themselves. Sometimes worries and pressure can cause false feelings of hunger and thirst. Try your best to diagnose yourself in the situation as quickly as possible. It alone hill help to calm down when stressed. If in doubt, your choice of home removals at London is not by accident. These professionals already know what it is to be in your place and will make for excellent one-on-one information source.