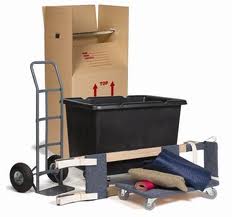 There is no doubt that the right moving equipment can not only ease your relocation but it could also help you to protect better your belongings during transportation. That's why in this article I'll try to bring that to your notice.
There are a couple of essential supplies that you'll definitely need if you consider changing your home. Do you know which are they?
1. Moving boxes
They are a must for all home removals London. You could place there all kinds of knick-knacks and even some bigger stuff. What is the difference between special moving boxes and ordinary ones? These are much stronger, last longer and could carry more items. Moving boxes can help you not only to protect your belongings but also to organize them better.
2. Bubble wrap
It's really important, especially if you have to move valuable breakables. Bubble wrap provides probably the best protection of your belongings. It cushions any hits and guarantee that there will be no scratches on the surface of your goods.
3. Moving blankets
They are extremely helpful when you have to carry items, for example, like big TVs. But that's not their only application. Plenty of movers would highly recommend you to use them to cover the surface of different pieces of furniture. If you need cheap removals London, it might be pretty expensive to wrap a big table with bubble wrap. Moving blankets cold solve your problem in such a case – they are an affordable decision that will protect you table of scratches.
These are probably the most popular moving supplies. But, of course, there are many more. Do you use other moving equipment?